COVID-19 & the changing landscape of care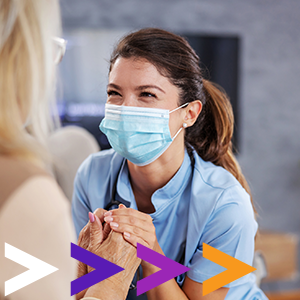 As both a result and response to the COVID-19 pandemic, how we care for each other has evolved significantly over the past two years. Conversations about mental health are increasing. How health care is accessed is changing. Innovators are stepping up to create solutions for health-related issues and care access. The list goes on. Our most recent exploration with the Boston Globe further examines how the pandemic has changed care for members, employees and communities.
Behavioral health support is evolving
It's no secret that there's been a negative impact on the mental health and well-being of most people during the pandemic. In fact, more than three in 10 adults reported symptoms of anxiety or depression since May of 2020. It hasn't been any better for children and teens either, as the adolescent mental health crisis was declared a national emergency in fall of 2021 with contributing factors like learning disruptions, social isolation and ongoing uncertainty.
"There's never been a greater appreciation or recognition of the importance of behavioral health care and seeing it as part of a person's total medical care," says Jill Borrelli, LISCW, vice president of behavioral health at Point32Health. The behavioral health landscape is shifting with more open conversations on mental health between family members, friends and colleagues, as well as widespread adoption of virtual behavioral health resources and tools including Doctor on Demand, Teladoc, Talkspace and Sanvello. A way of the future, Jill sees the value in a hybrid approach to mental health, with individuals and families having multiple connection points to different methods of support, including mental health professionals as well as self-care options, whenever and wherever they need it.
Well-being in the workplace
Another shift in the behavioral health conversation is the understanding that mental health is part of a person's overall well-being—something many employers are cognizant of within their own workforces. Amid the Great Resignation, being able to attract and retain talent is more important than ever. Many organizations have recognized the importance of offering a versatile benefits package that includes more accessible mental health benefits and caregiver support through flexible scheduling options. At Point32Health, for example, we are committed to connecting employees to multiple lines of support through Bright Horizons for childcare, elder care and college planning. Our corporate headquarters also has on-site well-being support including a state-of-the-art fitness center staffed with a wellness coach and personal trainers, as well as a health center and dedicated nurse practitioner available for preventive and acute symptom care and lab services.
Innovating for the future
Pandemic-era innovations go far beyond the behavioral health and well-being space. While COVID-19 created many challenges, it also sparked the need for solutions to provide better patient care. Between moving patient care and research away from hospitals and into homes to revolutionizing how vaccines are made and distributed, the pandemic has transformed how and where care happens. It's also created a greater need to continue the research for emerging solutions and technologies for the benefit of patients and health plan members alike, which is what our clinical innovation team at Point32Health works toward daily. Their innovation efforts help to improve health outcomes, increase access and affordability of care and help more people achieve their best health.
For more on how health care has evolved over the course of the pandemic, check out some of the full articles from our recent collaboration with the Boston Globe: