How data drives a better health care experience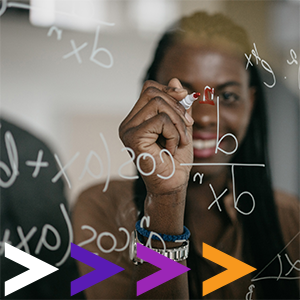 Algorithms are a set of rules that help inform a solution to a problem. In modern society, we interact with algorithms daily—whether typing a question into a search engine and watching an answer generate in seconds, sitting at a red light waiting for the traffic signal to switch or mapping out a city bus route. Algorithms take on many different forms and help guide decisions and action.
As a different kind of nonprofit health company, with a broad range of offerings and innovative solutions that make navigating the health care system easier, we use a variety of tools to think creatively about improving care access and quality for our members. Algorithms are one of the many strategies we rely on to help improve decision making and reduce the complexities of the health care ecosystem.
Using information about an individual's health, demographics, characteristics that impact health behaviors and outcomes like social determinants of health, the use of preventative health care services, and other factors, algorithms make inferences that help us make decisions to ensure that our members receive access to high quality care when they need it most.

The role of algorithms in decision-making and identifying present and future care needs
Health care was once previously confined to a patient showing up at a doctors' office or hospital to receive care. Now, modern health care systems proactively outreach to patients, especially those with complex health needs, to help people get the care they need and prevent avoidable, less beneficial and costly care. That's where algorithms come in as decision-making support tools in identifying people that might benefit from chronic condition education, support services, care coordination or the support of a specialty vendor partner to prevent a serious health event from occurring in the future. In these instances, algorithms are used to identify an individual who would benefit from a health intervention, or to predict an increase in utilization that may be associated with a specific health need so that we as a health plan can proactively offer our support.
Algorithms can also be utilized to help have close contact with a primary care doctor and then prevent avoidable emergency department visits. For Point32Health's care management team, algorithms are a tool to help identify members who recently visited the emergency department or an inpatient admission and ensure that member has access to needed post-service care.
In addition, there's also clinical algorithms, which can be as simple as an age-based rule that is set to trigger an outreach to an individual about scheduling an appointment for a preventive vaccination. During the COVID-19 pandemic, when health care systems were inundated with patients that needed immediate care, algorithms were used to improve efficiency, targeting high risk populations based on age, chronic conditions and socioeconomic needs to ensure that they had access to COVID-19 testing and vaccine resources.
"Using algorithms, we are able to ingest and process large volumes of data that help us to derive valuable insights about our members and their evolving health and social needs," said Alyssa Scott, vice president of data and analytics. "We have the unique ability to develop comprehensive health profiles of our membership, which means we can tailor outreach to each member and help improve their care experience, whereas an individual provider, system or facility may have blind spots in a member's care history."
Mitigating algorithmic bias in health care
Although data algorithms can be highly accurate tools for health plans to help make care delivery more effective, they can also be susceptible to bias. Some studies have shown that societal imbalances in the use of medical services and the prevalence of certain conditions may inadvertently produce flawed outputs across underserved groups. For example, a 2019 study of a widely used risk-prediction algorithm found that Black patients were being assigned the same level of medical risk as White patients, despite Black patients having more medical needs. The algorithm used in that study focused on predicting which patients were likely to cost more based on the notion that people with more medical needs would need more care, without taking into consideration other societal factors that influence racial disparities in health and health costs. Socioeconomic factors also play a role. If past health care expenses are used as a marker of need, those who cannot afford cost share do not appear on algorithms, therefore we must take absence of costs as another factor in determining the need for intervention.
Inspired by this by this important study, we partnered with national algorithm bias experts at University of Chicago Booth School of Business to take an in-depth look at defining, measuring and mitigating algorithmic bias in our population.
Through this work Point32Health leaders contributed to the development of the Algorithm Bias Playbook, developed by the University of Chicago, intended to serve as a guide to help health care organizations identify and eliminate bias in existing and future algorithms.
We also utilized our unique partnership with The Department of Population Medicine in the Harvard Pilgrim Health Care Institute, the nation's first medical school appointing department based in a health plan, to continue to examine and understand how bias arises in algorithms and what we can do to mitigate those problems and provide better and equitable care—for all our members.
As an affiliate of Harvard Medical School, the Harvard Pilgrim Health Care Institute is strategically positioned to improve population health and health care delivery locally, nationally and internationally through research and education, in partnership with health plans, delivery systems and public health agencies.
"The insights we have made from this unique, multi-disciplinary collaboration of clinicians, researchers and Point32Health leaders has allowed us to translate evidence and science into actionable solutions for identifying and mitigating future bias." – Alon Peltz, Harvard Pilgrim Health Care Institute
"The opportunity to partner with experts at the Harvard Pilgrim Health Care Institute and the University of Chicago Booth, has empowered Point32Health to adopt a market leading position in response to algorithm bias and health equity." – Alyssa Scott, Point32Health