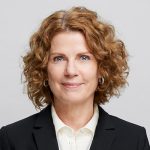 Christine Murphy is senior vice president, Provider Partnerships at Point32Health. In this role, she provides strategic leadership and oversight for all aspects of provider network strategy and operations.
Christine joined Point32Health from Mass General Brigham Health Plan where she was vice president, Network Management. Previously, she held leadership positions at Blue Cross of Massachusetts and with the Consumer Protection Division of the Massachusetts Attorney General's office. Christine has also held leadership roles in technology sales, startup companies and in financial services in the United States and the United Kingdom.
Christine holds a bachelor's degree from Harvard University, an associate's degree in Forensic Accounting from Northeastern University and a Master of Business Administration from London Business School.
Christine has served on the board of Healthcare Administrative Services, founded and chaired LBS Serves and has served as a volunteer with Newton Public Schools and women's domestic abuse shelters.