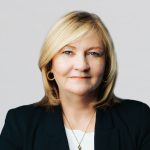 Deb is president and CEO of Health Plans, Inc. (HPI), a Point32Health company. In this role, Deb manages the direction and evaluation of the organization's fiscal function and performance and leads HPI's diversification growth strategy. Under Deb's leadership, HPI has grown to be a leading national third-party administrator and has acquired three subsidiaries, MedWatch, TrestleTree and EHN, which continue to differentiate HPI in the marketplace.
Deb has held a number of senior executive positions over the past two decades. Her experience and skills have directly impacted product marketing, business development, sales revenues and strategic planning, and the company's recent risk management growth endeavors.
Deb joined HPI in 1993 to build their self-funded sales team as regional sales executive, serving as development architect as the company transitioned operations to primarily administer self-funded health plans. Deb has since served numerous roles in the sales area including vice president of Sales and Marketing. As senior vice president, Deb's responsibilities included care management and health strategies, reporting and analytics and operations.
Deb is a board member for the Self-Insurance Institute of America, Inc. (SIIA), and holds a Bachelor of Science in health care administration.