Diane L. Gilworth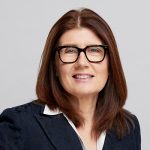 Diane L. Gilworth is senior vice president of Health Care Services at Point32Health. In this capacity, Diane oversees the clinical and operational management of behavioral health, pharmacy (including the pharmacy benefit manager), utilization management, appeals and grievances, care management and medical cost management for Medicare, Medicaid, Connector Care and commercial lines of business.
Prior to joining Point32Health, Diane served as the chief clinical officer at Boston Medical Center HealthNet Plan (BMCHP) for Medicare, Medicaid and qualified health plan (QHP) members. As the chief clinical officer, Diane had oversight for case management, quality management, medical policy, grievances and appeals, utilization management (UM), UM medical review physicians and the senior medical directors.
Prior to joining BMCHP, Diane served as the senior vice president (SVP) of Clinical Services at Highmark Health in Pittsburgh, where she was promoted to the SVP of the Integrated Delivery and Financing division working directly to integrate the provider and payer roles. Prior to that, Diane served at Aetna Medicaid as the national executive director of Clinical Operations and was promoted to chief nursing officer. While at Aetna, Diane had oversight for Medicaid care delivery services across 17 states.
Diane, a geriatric nurse practitioner specializing in cardiology, has more than 30 years of direct inpatient and ambulatory experience. She developed and operated one of the largest complex chronic care programs in the country at Harvard Vanguard Medical Associates/Atrius while serving as the vice president and director of nursing.
Diane received a Master of Adult/Geriatric Nursing, Advanced Practice Degree at Simmons College in Boston, a Master of Public Health from Boston University, and a Bachelor of Science in Nursing from Montana State University. Diane has specialty certifications in critical care cursing and advanced bioethics from Georgetown University.