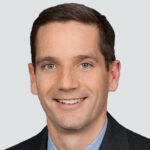 Marc Spooner is chief operating officer of Point32Health, with responsibility for the direction of the organization's operational and technology strategy and investments that ensure optimal member service and organizational goals. He oversees shared services, including operations, information technology, health care services, and corporate data and analytics.
Previously, Marc served as executive vice president of commercial and government products at Tufts Health Plan, overseeing the plan's three product lines — commercial, senior, and public — as well as business diversity. He also served in a variety of roles in product, strategy, and service divisions. Prior to Tufts Health Plan, Marc was at Deloitte Consulting, where he focused on the health insurance market.
Marc is on the board of directors of the Greater Boston Chamber of Commerce. He has also served as executive sponsor of Tufts Health Plan's veterans and military business resource group, which strives to build a diverse community for current and former military service members and military allies.
He holds an MBA from Harvard Business School and a B.A. from Duke University.