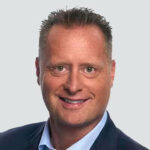 Michael Carson is president of Point32Health, with responsibility for overseeing the organization's diverse lines of commercial, Medicare, Medicaid, self-insured, and subsidiary businesses across New England and nationally, as well as its corporate, long-term strategic development and brand positioning.  Included in this are strategic and tactical solutions to transform health care and make it more affordable, accessible, and efficient for all consumers by connecting disparate health services and care delivery through strategic collaborations and leading-edge technology.
A seasoned health care executive, Michael joined Harvard Pilgrim in 2017 and served as president and chief executive officer of Harvard Pilgrim Health Care, where he was committed to using innovative approaches to improve business performance and member health and wellness, including an industry-leading population health model focusing on "whole person, in-person" care, data-driven decision making to improve both individual and community outcomes, and providing members advanced health care consumerism products and tools.
Prior to joining Harvard Pilgrim, Michael held several senior health care leadership positions, including president of Anthem's eight-state Eastern Region Medicare business, chief operating officer of ConcertoHealth, a full risk, multi-state risk-based physician group and care management organization, chief operating officer & vice president of Amerigroup's 14-state Medicare business, and vice president of operations at Premera Blue Cross in Washington.
Michael chairs the board of the Harvard Pilgrim Health Care Foundation, which helps build healthy communities by supporting programs that provide access to healthy food, and supports Harvard Pilgrim employees' volunteer efforts across the region. In addition, he sits on the boards of the Association of Health Insurance Plans (AHIP), the Alliance of Community Health Plans (ACHP), Massachusetts Association of Health Plans (MAHP), the Greater Boston Chamber of Commerce, the Schwartz Center for Compassionate Care, the Boston Boys & Girls Club, and on the Advisory Board of MyHealthMath.
Michael studied at Indiana University's Kelley School of Business and the University of Maryland and holds a bachelor's degree in business administration from the University of Phoenix. He is a U.S. Air Force veteran.