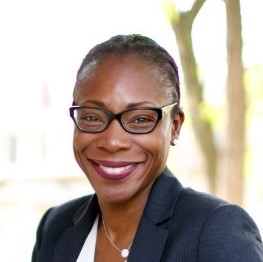 Dr. Myechia Minter-Jordan oversees the DentaQuest Partnership for Oral Health Advancement and Impact Group, leading research and grantmaking activities focused on improving oral health, integrating oral health and overall health through medical/dental collaborations, moving toward a value-based payment model, and guiding a growing research and data portfolio.
Myechia joined DentaQuest in 2019 after twelve years at the Roxbury, Mass.-based Dimock Center, transforming it into a national model for comprehensive health and human services, with an emphasis on the integration of clinical and behavioral health practices.
She serves on several boards and committees that include the Yawkey Foundation, The Boston Foundation, the Harvard School of Dental Medicine, and the Isabella Stewart Gardner Museum. In the past, she has served on a number of boards and committees within Massachusetts and Boston, including the Massachusetts Health Planning Council Advisory Committee, the Boston Public Health Commission, and RIZE Massachusetts-where she focused on combating the opioid epidemic. She has been widely recognized for her leadership and public service.
Myechia holds an M.D. from Brown University School of Medicine, an MBA from the Johns Hopkins Carey School of Business, an A.B. from Brown University, and honorary doctorates from Northeastern University and Newbury College.