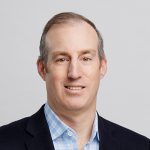 Patrick Cahill is president, Commercial Markets, at Point32Health, overseeing the commercial market that includes four New England states and nationally through a partnership with United Healthcare. In this role, Patrick is responsible for sales and sales operations, product strategy and innovation and strategic business development.
With more than a decade of experience in the health care market, Patrick leads a team of more than 250 colleagues to identify the most promising opportunities within Maine, Massachusetts, New Hampshire and Rhode Island. With a background in law and regulatory affairs, Patrick navigates the careful balance of the external market and the regulatory landscape, while executing on strategic initiatives in a matrix organization.
Previously, as vice president of the Massachusetts Market for Point32Health, Patrick led market-based strategy for the Massachusetts commercial market, a $3 billion line of business, with direct responsibility for achieving growth and profitability targets.
Patrick serves on the boards of several community organizations, including the Boston Chinatown Neighborhood Center, a not-for-profit human service organization serving immigrant populations and the New England Employee Benefit Council. He also serves as a trustee of the Massachusetts Taxpayer Foundation.
Patrick graduated from the University of Massachusetts-Lowell with a bachelor's degree in Political Science and received a law degree from Suffolk University Law School. After law school, Patrick clerked for Chief Justice Christopher Armstrong of the Massachusetts Appeals Court. Prior to working in health care, Patrick held several positions in state government working on various matters of public policy at the Massachusetts State House.