As you know from previous communications, a key area of focus for the organization is the delivery of a more unified product portfolio for our commercial markets business. This work, which began in 2023 and will continue throughout 2025, is progressing well. Migration is occurring on a rolling basis, based upon the employer account renewal date.
In 2023 — Massachusetts small group commercial accounts began transitioning to Harvard Pilgrim in January 2023, and the Massachusetts Group Insurance Commission (GIC) account also migrated in July 2023.
In 2024 — Beginning in January 2024, Tufts Health Plan Rhode Island commercial members will be migrated to Harvard Pilgrim Health Care commercial products. In addition, Massachusetts large group accounts with renewal dates occurring in June-December will migrate.
In 2025 — Massachusetts large group accounts with January–May renewal dates will migrate to Harvard Pilgrim products.
We are communicating extensively with commercial employer accounts and health plan members on these changes. In particular, health plan members are being reminded to look for their new member ID cards and present them when seeking care or services to ensure that eligibility and claims processing are accurate.
Rhode Island commercial migration
Beginning on Jan. 1, 2024, Tufts Health Plan commercial members in Rhode Island will be transitioned to one of Harvard Pilgrim's commercial products, which include HMO, PPO, and national plans. You can learn more about Harvard Pilgrim's offerings by visiting the Learn About Our Products page on the provider website. We'll also be offering a new large-group national product, Ocean State Access America, in 2024.
Please keep in mind that Rhode Island Medicare and Medicaid products will continue to be offered under the Tufts Health Plan brand.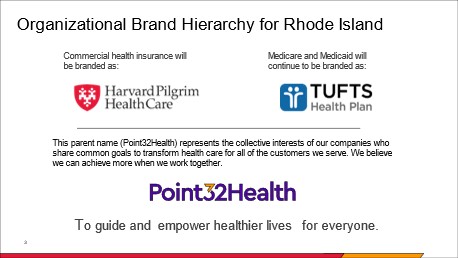 In anticipation of Rhode Island commercial migration, Harvard Pilgrim is expanding our established network of providers in Rhode Island. If you are a participating Tufts Health Plan Rhode Island provider who received an Amendment by Notice to your Health Services Agreement to enable you to participate in Harvard Pilgrim Health Care products, please be sure to complete the necessary documents, including a W-9 form and HCAS Provider Enrollment form, and return them to AncillaryNetworkContracting@point32health.org.
While most providers in the Tufts Health Plan network are enrolled in the Harvard Pilgrim network, in the event that a migrating member is in active care with a provider who does not yet participate in Harvard Pilgrim's network, we have continuity of care plans in place to ensure the member can continue to see their provider for 365 days.
Please remind office staff to request the member's ID card to confirm eligibility. Every new member and those making plan changes will receive a Harvard Pilgrim member ID card, including migrating members from Tufts Health Plan. We also encourage you to use HPHConnect to verify benefits and eligibility, submit authorization requests, submit claims and check status, and more.
Be sure to look for additional information on our Rhode Island commercial migration and the Ocean State Access America product in the next issue of our provider newsletter. In addition, please refer to our Integration FAQ on the provider website.
---
Audrey Kleinberg,
Director, Provider Relations & Communications
Annmarie Dadoly,
Senior Manager, Provider Communications
Joseph O'Riordan, Susan Panos, Stephen Wong,
Writers
Kristin Edmonston,
Production Coordinator
Kristina Cicelova,
Graphic Designer