We're pleased to announce the launch of a new integrated behavioral health webpage to better serve providers.
Visit our new page on the Point32Health website today to access content just for behavioral health providers including:
A Harvard Pilgrim Health Care Quick Reference Guide with handy tips on recognizing members and verifying eligibility, submitting claims, requesting authorizations, accessing e-tools, and more.
Resource section with quick links to the materials you reference most, including payment policies, medical necessity guidelines, claims information, secure portals and user guides, and more.
Recommended articles from our monthly newsletter
Links to access trainings, join the network and program information
We hope that you find our new behavioral health page helpful and easy to use and look forward to hearing your feedback.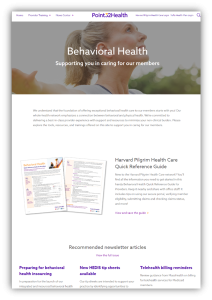 Behavioral health insourcing for Harvard Pilgrim
We have now integrated and insourced our behavioral health program. As a reminder, this change impacts Harvard Pilgrim Health Care commercial only — as they transition from using Optum/United Behavioral Health services to this new insourced model. For these members, providers in our service area should work directly with Harvard Pilgrim for behavioral health services, including obtaining prior authorizations, submitting claims, coordinating with care managers, and contacting the Harvard Pilgrim Provider Service Center (800-708-4414) with questions.
Optum will continue to provide behavioral health services for Harvard Pilgrim Health Care's Medicare Advantage StrideSM (HMO)/(HMO-POS) plan in New Hampshire through Dec. 31, 2024. For StrideSM members, please continue to work directly with Optum as you do today.
Please keep the following in mind as you work to provide outstanding behavioral health care to these members.
Getting started reminders
Be sure to sign up for one of our interactive training sessions to learn more about working with Harvard Pilgrim Health Care, register for HPHConnect to conduct transactions quickly and easily, sign up for electronic funds transfer for electronic payment, and register to have this newsletter, Insights and Updates for Providers, delivered straight to your inbox. For more details, please refer to the October 2023 article and the Quick Reference Guide.
Where to submit claims
Harvard Pilgrim contracted providers should begin billing Harvard Pilgrim for behavioral health services provided to commercial members for dates of service beginning Nov. 1, 2023. If, however, a commercial member is admitted on an acute inpatient unit prior to the Nov. 1, 2023 insourcing date and stays hospitalized until or beyond Nov. 1, 2023, the provider will continue to work with Optum for utilization management and should bill Optum for payment of the full inpatient admission episode.
We encourage electronic submission of claims through EDI channels or HPHConnect for ease, speed, and efficiency. Harvard Pilgrim's electronic payer ID number: 04271.
The paper claims mailing address is: Harvard Pilgrim Health Care, P.O. Box 699183, Quincy, MA 02269-9183.
Prior authorization requests
When insourcing occurs on Nov. 1, 2023, open authorizations obtained from Optum/UBH will be honored through their expiration date. For new prior authorization requests, we encourage the use of HPHConnect. If documentation is needed, please remember to attach it at the time of submitting your prior authorization request in HPHConnect. You may also fax authorization requests to 800-232-0816 or call the Provider Service Center at 800-708-4414.
Contracting and continuity of care
We are committed to ensuring that patients receive uninterrupted care from their existing behavioral health providers.
The best way to ensure you can continue to care for your Harvard Pilgrim commercial members is to contract directly with Harvard Pilgrim Health Care. To contract with Harvard Pilgrim Health Care, contact AHCBehavioralHealth@point32health.org.
Until further notice, as a transitionary measure, providers who participate in the UnitedHealthcare network will continue to be eligible to provide services to these Harvard Pilgrim members and will be considered in-network providers. As noted above, Harvard Pilgrim Health Care policies apply as of Nov. 1, 2023, and claims should be submitted directly to Harvard Pilgrim Health Care.
Providers contracted with Harvard Pilgrim will receive our rates, while non-contracted providers who are part of the UnitedHealthcare network will be paid at UnitedHealthcare rates.
---
Audrey Kleinberg,
Director, Provider Relations & Communications
Annmarie Dadoly,
Senior Manager, Provider Communications
Joseph O'Riordan, Susan Panos, Stephen Wong,
Writers
Kristin Edmonston,
Production Coordinator
Kristina Cicelova,
Graphic Designer