As we communicated last month, starting in January of 2024, we will begin transitioning Tufts Health Plan Rhode Island commercial members to Harvard Pilgrim Health Care commercial products—which include HMO, PPO, and national plans. Along with this transition, we are pleased to share the following additional member benefit and announce the new large group plan that will be available Jan. 1, 2024.
Coverage for doula services
In accordance with R.I. S0484A, antepartum and postpartum services performed by a doula birth worker through a contracted doula agency will each be covered for up to 2 visits per pregnancy—with postpartum visits covered for up to 12 months after delivery—for all Harvard Pilgrim Health Care commercial members. Doula support during labor and delivery will also be a covered benefit. Please refer to the Obstetrical/Maternity Payment Policy for details and use the following codes when billing for perinatal doula services:
T1032 – antepartum services and postpartum services (per 15 minutes)
T1033 – labor and delivery support services (per diem)
Ocean State Access America
Effective Jan. 1, 2024, Harvard Pilgrim Health Care will offer the new Ocean State Access America product to large fully and self-insured multi-state employers based in Rhode Island. Ocean State Access America is a national plan designed for groups with a workforce of 150 or more eligible employees, that includes employees based outside of Massachusetts, Maine, New Hampshire, and Rhode Island.
Tufts Health Plan Rhode Island large groups currently participating in the CareLink PPO plan—which is being retired—will migrate to Ocean State Access America. More information about Ocean State Access America and other Harvard Pilgrim offerings is available on the Learn About Our Products page of the provider website.
You can recognize members of Ocean State Access America by their ID card which can be seen in the sample image below.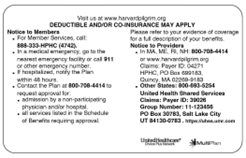 Commercial migration reminders
As we work toward offering a more unified commercial product portfolio, please keep in mind:
Migration is expected to continue throughout 2025 and will occur on a rolling basis, dependent upon the employer account renewal date.
While most providers in the Tufts Health Plan network are enrolled in the Harvard Pilgrim network, if a migrating member is in active care with a provider who does not yet participate in Harvard Pilgrim's network, our continuity of care plans are in place to ensure that Rhode Island members can continue to see their providers for 365 days.
Every new and migrating member, in addition to those making plan changes, will receive a Harvard Pilgrim member ID card which displays copayments and deductible information. We are reminding all members to present their cards when seeking care or treatment and encourage providers to verify benefits before rendering services.
You can check benefits and eligibility, submit authorization requests, submit claims and check status, and more using HPHConnect.
Rhode Island Medicare and Medicaid products will continue to be offered under the Tufts Health Plan brand.
You can keep up to date on commercial migration by referring to Point32Health's Integration FAQ.
Contracting
In preparation for commercial migration, we are continuing to expand our Harvard Pilgrim network of providers in Rhode Island. If you are a participating Tufts Health Plan Rhode Island provider who received an Amendment by Notice to your Health Services Agreement to enable you to participate in Harvard Pilgrim Health Care products, please complete the W-9 form and HCAS Provider Enrollment form, and return both to AncillaryNetworkContracting@point32health.org.
---
Audrey Kleinberg,
Director, Provider Relations & Communications
Annmarie Dadoly,
Senior Manager, Provider Communications
Joseph O'Riordan, Susan Panos, Stephen Wong,
Writers
Kristin Edmonston,
Production Coordinator
Kristina Cicelova,
Graphic Designer