Thank you for your patience as Harvard Pilgrim Health Care has worked on restoring systems in the wake of the cybersecurity incident we identified on April 17. We have returned our core business functions and tools online and wanted to share an overview of recent announcements.
Eligibility
We have restored access to commercial eligibility data and you can now check eligibility via HPHConnect, the Provider Service Center, or 270/271 batch eligibility transactions. Please keep in mind that while commercial member information is not yet current, we are working diligently to bring it up to date. For Medicare Advantage StrideSM (HMO)/(HMO-POS) members, member eligibility information is current. You can access plan participation and PCP information for Medicare Advantage StrideSM (HMO)/(HMO-POS) members through HPHConnect or for complete details please visit the Stride provider portal.
Utilization management
We will be reinstating utilization management (UM) activities — including notification, prior authorization, and referral — for Harvard Pilgrim Health Care commercial, Medicare Supplement, and Medicare Advantage StrideSM (HMO)/(HMO-POS) members, effective for dates of service beginning July 24, 2023.
We will begin accepting these requests as of July 10, 2023; please do not submit your UM requests prior to this date.
As a reminder, please do not submit referral, prior authorization or notification requests for services occurring in the waiver period (April 15-July 23). Claims for these services will be appropriately adjudicated without UM transactions.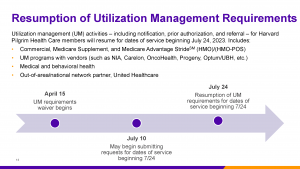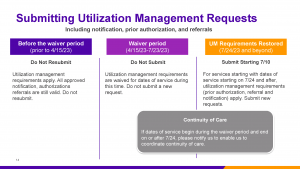 As noted above, while we are working diligently to bring our commercial member enrollment and eligibility information up to date, we anticipate data may not be current for several weeks. We have instituted a temporary process to ensure you can submit UM requests for commercial members who are not yet available in the system. When you begin submitting prior authorizations on or after July 10, if you cannot find a member in the portal, please contact the Provider Service Center by phone at 800-708-4414 or by FAX at 800-232-0816 for commercial members and note that you are inquiring about member enrollment.
Claims submission
As a reminder, we are accepting claims for all lines of business — including Harvard Pilgrim Health Care commercial and Medicare Supplement members. We're ready to process any claims that were held during our system outage and encourage provider organizations to submit their claims as soon as possible.
Since we are making significant progress in processing large volumes of claims quickly, it is not necessary to send claims in batches. You can release complete claims files to your clearinghouse for processing.
You may submit claims electronically through EDI submission or via paper. We are working on restoring claims submission functionality in HPHConnect and expect to have that available shortly.
Providers can review claims status via EDI and via HPHConnect. Depending on volume, it is possible that you may not receive notification that the claim was received or a claim status immediately, or the claim status may be listed as processed and payment may not have cleared yet. If that occurs, please be patient.
You may also see an initial claim status noting a denial for lack of prior authorization for a service that was provided to a Harvard Pilgrim Health Care member during the prior authorization waiver (April 15-July 23); please note that these denials are temporary. These claims are being manually overturned and will subsequently be adjudicated without the authorization.
Provider website
We're pleased to report that our Harvard Pilgrim Health Care public provider website (www.harvardpilgrim.org/provider) is up and running again, so you and your office staff can access all the same materials and tools provided in the past, including:
Visit www.harvardpilgrim.org/provider today to access these materials. You'll also continue to find some tools and resources on the Point32Health provider page (www.point32health.org/provider), including our monthly newsletter, Insights and Updates for Providers; an integration FAQ; COVID policies and procedures; and our System Update FAQ.
HPHConnect functionality
We've also restored functionality to HPHConnect, our web-based transaction service. While users have been able to access HPHConnect throughout most of the system outage, a number of functions were unavailable. We've been restoring some of those functions over time, and now you can perform the following transactions:
View claims status
Verify member eligibility and benefits
Search existing prior authorizations and referrals; submit requests as of July 10, 2023
Directly access policies and resources via the Resource Center
Access the provider look up
View a patient's personal health record
Please keep in mind that that we are bringing member and provider data up to date and it may not yet be current.
For more information
In addition, you'll find more details, including information about claims timely filing and interest, in our System Update FAQ.
---
Audrey Kleinberg,
Director, Provider Relations & Communications
Annmarie Dadoly,
Senior Manager, Provider Communications
Joseph O'Riordan, Susan Panos, Stephen Wong,
Writers
Kristin Edmonston,
Production Coordinator
Kristina Cicelova,
Graphic Designer